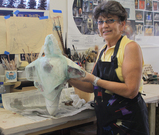 Judy Lee, Ceramic Artist:
This is me in my studio preparing a giraffe mask for pit firing.

email: zebra.judylee@gmail.com
cell: 408-306-0338
---
I have been working with clay for over 35 years. Much of my current work consists of functional, usable dinnerware as well as decorative and designer pieces to produce contemporary sculpture, masks, wall hangings and large lidded vessels. My primary work is creating custom vessels for cremation urns, supplying private clients and businesses in Mississippi and Louisiana, as well as an international website in Colorado for custom urns. This niche market was suggested to me by a customer who was a retired funeral director. He liked my work and said I should offer them for sale to funeral homes. The rest is history! I now have 15 funeral homes and service companies and an internet business that purchase my work! I also sell directly to individuals, shipping items directly to them or to the funeral home.

Each urn I make is unique. I am able to make similar pieces, but not having to make a production line item allows me to be more creative, investigating new techniques and glazing possibilities. I am inspired by textures and shapes, using these whenever possible to enhance the sculptural piece. Since moving to Mississippi from California, my work has branched out to include coastal elements. My style varies from classic functional pieces fired in an electric kiln, to raku and pit fired pieces. The challenge of using a variety of texturing, glazing and firing techniques keeps the creative juices flowing.

I have exhibited in juried shows in California, Mississippi, Ohio, Florida and Alabama and also filmed a segment for HGTV's "That's Clever" show which was broadcast in Spring 2009. I served on the board of directors for The Arts, Hancock County. My work is available through Gallery 220 in Bay St. Louis and at my studio in Diamondhead, MS. I have taught handbuilding classes at the Diamondhead Continuing Education program and in my studio at home to share my love of clay!

In addition to many college classes and workshops, I was originally encouraged by my uncle, John Snider, who convinced me to take my first class in pottery, as well as my mother, who was a talented watercolor artist. In addition, working with fellow clay artists has also allowed me to share ideas and techniques, expanding my creative thought processes. I acknowledge that God has blessed me with a talent that I may share with others in the process of making my work. I recognize His gift to me and most recently I have included the fish symbol (ichthys) along with my signature on all my pieces.
Thanks for visiting the website. If you are interested in purchasing an item, desire more information on the pieces, or just want to leave a comment, please let me know! I would love to hear from you. You can email me directly to ask specifics on an item, such as pricing, sizes or shipping costs.